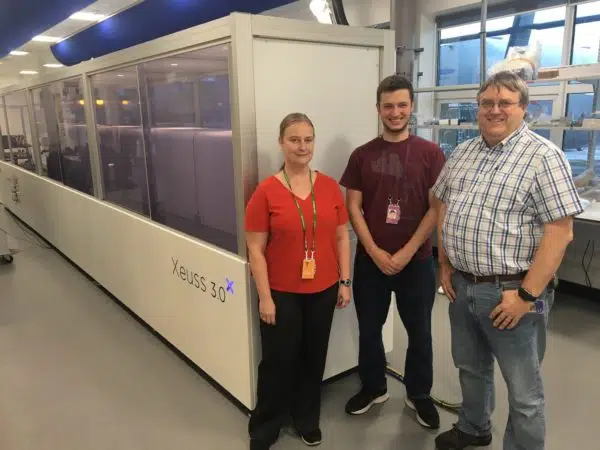 Gemma Newby getting ready to train Sam Burholt and Nick Terrill on the new DL-SAXS facility installed at the Diamond Light Source.
The new Xeuss 3.0 UHR is now installed at the Diamond Light Source where training is about to start. The end of installation coincided with the S4SAS conference held at the Diamond Light Source which gave the participants the opportunity to see the new system and discuss the possibilities and features offered by the latest generation SAXS system. Besides shear performance offered by the combination of the system length, the MetalJet source and the full length motorized travel of the detector, users were enthusiastic about the sample stage recognition of the system and the quality of sample-holders.
The Diamond-Leeds SAXS facility will be a multi-user facility covering a range of applications, including food science.
« We are extremely proud to deliver the Xeuss 3.0 to Diamond and the University of Leeds. It is our most advanced Laboratory SAXS system yet and seeing it installed next to the Diamond Light Source Beamlines is very inspiring. » said Peter Høghøj, CEO of Xenocs.