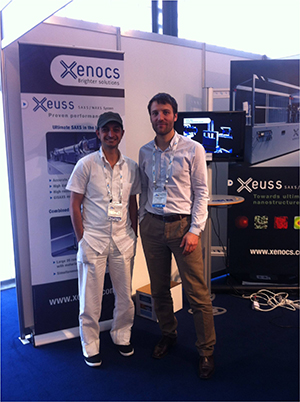 SAS conference 2012 held last November in Sydney was of great interest for XENOCS offering the opportunity to meet and exchange with many scientists leading development of SAXS applications for advanced material science.
It was also the opportunity to meet young, motivated scientists that will surely contribute to the development and widespread of this technique. Indeed Xenocs organized a random draw for a Young Scientist Grant to support attendance to an international conference. The draw was carried during a special lunch company session on Advanced clean beam for SAXS in the lab.
Today we are proud to announce the name of the winner: M. Segad and his plans for use of the grant. He is currently doing his PhD at the Center for Chemistry and Chemical Engineering, Lund University, Sweden. With the benefit of this Xeuss 2012 Support Grant he will attend an international DTTG Workshop on qualitative and quantitative analysis of clays and clay minerals, which is organized every two years. This will be a good opportunity for him to present SAXS results of clay and to improve his knowledge on different aspects of XRD, WAXS and SAXS of clay minerals.
M. Segad began his graduate studies with a research proposal entitled "Structure, Forces and Swelling Properties: Experimental and Theoretical Studies of Clay-Water Systems". This work is actually the main part of his PhD thesis. The aim of this project is to gain a new insight of lamellar swelling in the field of clay science. Clay is to be used as a sealing material to deposit nuclear waste in geological repositories. Thus, it is of utmost important to have as good picture of the structure as possible. A thorough understanding of the stability of clay when bulk solution contains a mix of sodium and calcium ions is also needed. Besides, there is also a general interest in clay structure for use in many everyday applications, e.g. ceramics, oil well drilling and lip stick!