The scientific instruments company re-enforces board to capture markets and growth
Press release – Grenoble, September 2, 2022
Xenocs announced today the appointment of Pieter de Groot and Dr Isabelle Buckle as independent members to the board of directors. This brings the number of board members to six.
"I am pleased to welcome Pieter and Isabelle to the Xenocs Board, as we continue to develop and grow the company" said Peter Høghøj, Xenocs CEO. "Their deep experience in growing high-technology businesses will be invaluable to Xenocs", Managing Director Frédéric Bossan added.
Biotechnology specialist Isabelle Buckle added: "I am thrilled to bring my expertise to help developing the applications of Xenocs solutions in the healthcare market".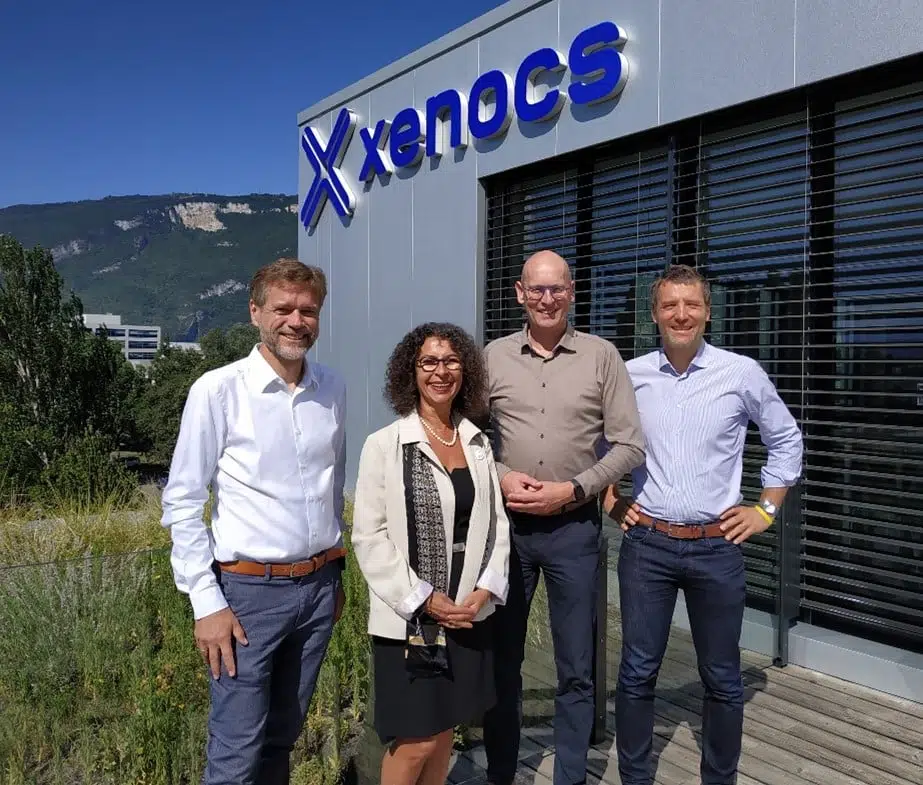 From left to right, Peter Høghøj, Isabelle Buckle, Pieter de Groot, Frédéric Bossan.
About Isabelle Buckle

Dr Isabelle Buckle, PhD, is armed with over 30 years of scientific commercial and business skills in Biotechnology forged from previous experiences at Bruker Daltonics as Global Vice President Clinical Mass Spectrometry, CEO and Chairman at InGen Biosciences (an In Vitro Diagnostics French Group), at Life Technologies (now Part of Thermofisher) as Global Head European Pharma's Accounts or at Ciphergen Biosystems Inc as Regional Director Head of Business Development Diagnostics to name the latest positions. At Institut Pasteur, Dr Buckle is the Executive Vice-President for Technology Transfer and Industrial Partnership.
About Pieter de Groot

Pieter de Groot has over 25 years of experience in the high-tech industry serving companies such as Philips and (Malvern) PANalytical in senior positions in Marketing and Product Management, Business Development, R&D and M&A. Currently, Pieter is Managing Director and CEO of Tempress.
About Xenocs

Xenocs provides solutions for characterization at the nanoscale to help customers in their research, development, and production of advanced materials in sectors such as polymers, renewable energy and pharmaceuticals.
The product portfolio of the company includes innovative high performance instruments that combine Small and Wide Angle X-ray Scattering (SAXS/WAXS), x-ray imaging and associated software.
Customers include top universities, research organizations and Fortune 500 companies.
With 20+ years of experience, the company has built a strong reputation for its expertise in X-ray technology, the performance of its products and the quality of its customer service.
Headquartered in Grenoble, France, Xenocs has subsidiaries in the US, China, Singapore and Denmark.
For more information, visit www.xenocs.com and follow us on Linkedin or Twitter