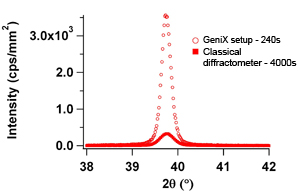 Small spot grazing incidence x-ray diffraction and reflectometry enables mapping XRD and investigation of concave samples. The GeniX Cu High Convergence installed at the CEA-LETI demonstrates the capability to do fast measurements with good accuracy as well as high spatial resolution providing mapping capability.
The combination with a curved detector emphasize the asset of the Genix setup to perform blanket film analysis with the advantage of avoiding mechanical movement of the detector, reduced experimental time and with the benefit of having a small beam footprint. Finally, besides classical reflectometry measurements, it has been possible to determine accurately the periodicity of a multilayer in a concave spherical cap sample, with typical radius of 6m. More results are found in the microdiffraction page.
Read more about this application.