Based on many years of experience of scatterless slits technology, Xenocs has made a new step forward by developing a new generation of scatterless slits for its Xeuss SAXS/ WAXS equipment.
These slits reach an unprecedented level of performance reducing noise scattering to extremely low levels as shown in Picture 1. Benefiting from the scatterless 2.0 collimation combined with a low noise camera design, the Xeuss equipment enables a straightforward differentiation of the background scattering from the signal of the sample. This brings new perspectives to the study of samples especially in biological applications with highly diluted solutions where the level of sample scattering is of low intensity (Figure 1).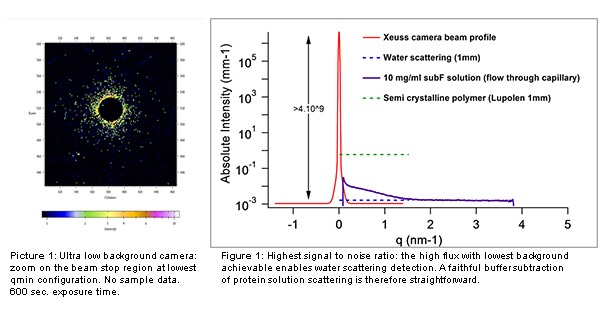 "Scatterless slit technology already brought SAXS much further in terms of performance and return on investment for the customer", says Xenocs CEO Peter Høghøj. "Measurements show the new Scatterless 2.0 generation of collimation provides background levels up to 10 times lower than competing solutions, thereby enabling unprecedented laboratory SAXS performance".
For more information on the Xeuss SAXS/WAXS system, please contact us at [email protected].