SAXSLAB US Inc will operate as Xenocs Inc, starting January 1, 2020, completing the integration of SAXSLAB US into the worldwide Xenocs group (Grenoble, France).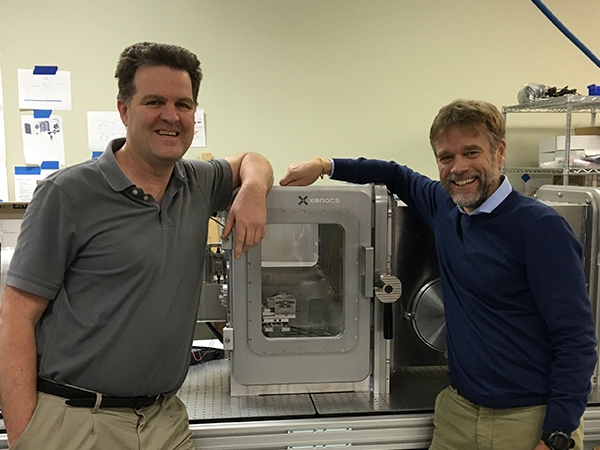 Xenocs Inc CEO Karsten Joensen and Xenocs CEO Peter Høghøj at Xenocs Inc in Amherst, Massachusetts.
Xenocs Inc will continue to be headquartered in western Massachusetts, with a new satellite office in California and will manage sales, service, support and production for the Americas as well as engineering and design projects for the global Xenocs organization.
"We are extremely excited to enter the new decade as an integral part of the rapidly expanding worldwide Xenocs group, and we're proud to be a strong participant in the continued growth of SAXS-related applications." states Karsten Joensen, CEO of Xenocs Inc.
Peter Høghøj, CEO of Xenocs – "I am very happy to enter the final phase of the SAXSLAB integration as a conclusion of three years of dedicated work at all levels of the organization. With an integrated group and the successful introduction of a series of innovative and powerful solutions that have received strong recognition by the world-wide nano-characterization community, the results have exceeded our expectations. In combination with our recent opening of Xenocs offices in China and our newly inaugurated facility in Grenoble France, we are well positioned to continuing our track record of delivering outstanding products and service to our customers."
About Xenocs
Xenocs provides solutions for characterizing the nanostructure and morphology of materials using advanced x-ray characterization methods. The product portfolio includes innovative high-performance instruments that combine Small and Wide Angle X-ray Scattering techniques (SAXS/WAXS). Founded as a spin-off company from the Institute Laue Langevin, in Grenoble, France, Xenocs supplies its solutions to leading research groups around the world. In December 2016, Xenocs acquired SAXSLAB, recognized for its innovative products in high-end Small Angle X-ray Scattering laboratory equipment. Xenocs has operations in France, USA, China, Singapore, India and Denmark.