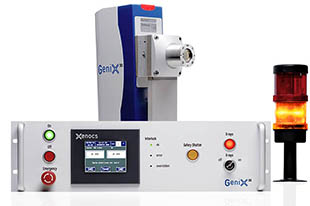 Xenocs is proud to present its new generation X-ray beam delivery system : the GeniX 3D, recently launched at the ACA and Denver X-ray Conferences.
This new platform integrates a higher brightness X-ray source with new designs of FOX 3D single reflection multilayer optics providing increased photon density and useful flux in various applications.
With smart alignment concepts the GeniX 3D is made to be simpler to integrate and maintain than a standard sealed tube. Designed for high reliability and stability, the GeniX 3D is provided with a 3 year warranty providing low cost of ownership with the performance class of a conventional high power rotating anode source. The GeniX 3D is available in a large range of energy and beam properties to satisfy a wide range of applications. For further details please look at our product range. Please find more information about this platform on the following movie and brochure.