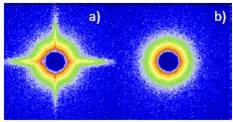 Scatterless slits systems were recently tested on the French CRG beamline D2AM of the European Synchrotron Radiation Facility in Grenoble.
As you can see, the hybrid blades of the scatterless slits practically eliminate the parasitic slit scattering enabling a very clean beam without time consuming fine adjustments.
These new slits dramatically simplify the collimation scheme leading to flux improvement. This new type of slits and collimation systems can be efficiently used both on laboratory setups and on synchrotron beam lines.
You can read the complete Technical Data Sheet here.
The Figure shows :
a) Standard collimation, flux maximized to 3.4e10 ph/s @17.48keV on sample
b) Same collimation, last anti scatter slits replaced by Xenocs' scatterless slits, same flux.