" Nano-inXider supports all experiments for pursuing our research on macromolecular complexes, such as nuclear pore complex, virus systems, and chromosomes. "
Prof. Seung Joong Kim
Integrative biophysics and Structural biology lab, KAIST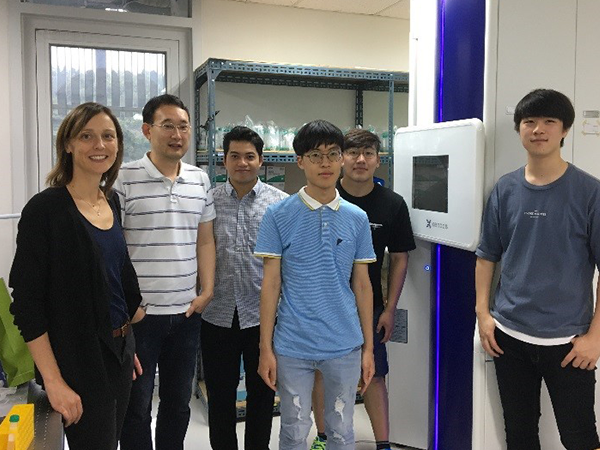 From left to right: Dr Sandra Desvergne (Xenocs), Dr. Seung Joong KIM, Tuyen Manh PHAM, Youngmoon CHO, Manhyuk HAN, and Dohyun LEE (KAIST)
A Nano-inXider SAXS/WAXS instrument was installed in July 2019 in the Integrative biophysics and Structural biology lab at KAIST, Korea Advanced Institute of Science and Technology, in South Korea. The instrument brings new research capabilities to KAIST as it enables Bio-SAXS and WAXS characterization  of proteins and their complexes in solution in the lab.
"Nano-inXider is a wonderful total solution for the in-house SAXS experiment. It is no longer necessary to travel a synchrotron with carrying lots of boxes and/or FedEx packages!  Basically Nano-inXider supports all experiments for pursuing our research on macromolecular complexes, such as nuclear pore complex, virus systems, and chromosomes", says Prof. Seung Joong Kim, in charge of the Integrative Biophysics and Structural Biology Lab where the instrument is installed.
Training on the instrument was provided right after the installation so that users could use it with no delay. "Thank you so much for the installation and support. It has been just a few months since we have the instrument, but I would like to underscore that Xenocs provides excellent customer service", Prof. Seung Joong Kim said.
About KAIST Integrative biophysics and Structural biology lab