Instrument Business Outlook (IBO) has awarded the Nano-inXider SAXS/WAXS equipment from Xenocs with the Bronze Award for excellence in industrial design for laboratory equipment.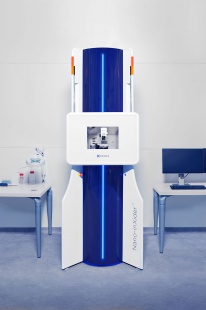 The Nano-inXider provides structural information on nanomaterials using X-rays. With its vertical architecture and since all facilities are fully integrated within the equipment body, the Nano-inXider features the smallest footprint on the market for SAXS/WAXS systems –  less than 1 m²!
The equipment presents a very elegant design. Its refined silhouette and low number of switches reflect its ease of use while technological precision is emphasized by the purity of its lines, angles and shape. Your eye is automatically drawn to the very large central test chamber, the design of which is very innovative : the center frame lifts smoothly giving access to a large chamber volume designed like a showcase with optimal sample illumination. Instant information on the instrument status is provided by the integrated color lighting. The modular design of the system helps reducing the environmental cost impact.
"We are very honored and pleased to have received the IBO Bronze award for the Nano-inXider�, Product Manager Blandine Lantz says. "We worked very hard to combine high level performance with ergonomics and ease of use. We collaborated for this project with a French industrial design company called Phi Design to ensure that everything was thought carefully for the comfort of the user. I would like to thank Frank Rousselin from Phi Design for his tremendous job! We are especially very proud of the design of the large sample chamber! With its direct & easy access, it is very convenient for positioning the sample and visualizing it through the large observation window. The user interface also follows the same philosophy of ergonomics & simplicity.�
 
For more information on IBOÂ Industrial Design Awards, please read :
 http://www.strategic-directions.com/_a/press-releases/index.cfm?action=2&sdi=1440199581