Press release – Paris, May 25th, 2021
CAPZA, an independent management company and leading player in private investments in European SMEs – invests in Xenocs, a French deep tech company, through its new Growth Tech strategy.
Founded in 2000, Xenocs is a spin-off from the Institut Laue-Langevin (ILL). The company operates on the nanoscale material characterization market through the development and production of SAXS – Small-Angle X-Ray Scattering – instruments and software. It has made important technological advances in X-ray optics,  as well as in data collection, processing and analysis software. This progress allows many industrial sectors to better optimize R&D, fabrication processes and control product quality. For example, by analyzing structure at the nanoscale, SAXS instruments help pharma giants characterizing proteins and developing new drugs.
Headquartered in Grenoble (France), Xenocs operates internationally through 4 subsidiaries based in the US, China, Singapore, Denmark and through an extensive network of agents in 12 countries. With a turnover of €16 million in 2020, Xenocs achieved a strong and profitable 25% annual growth in the last five years. The company currently employs 72 employees.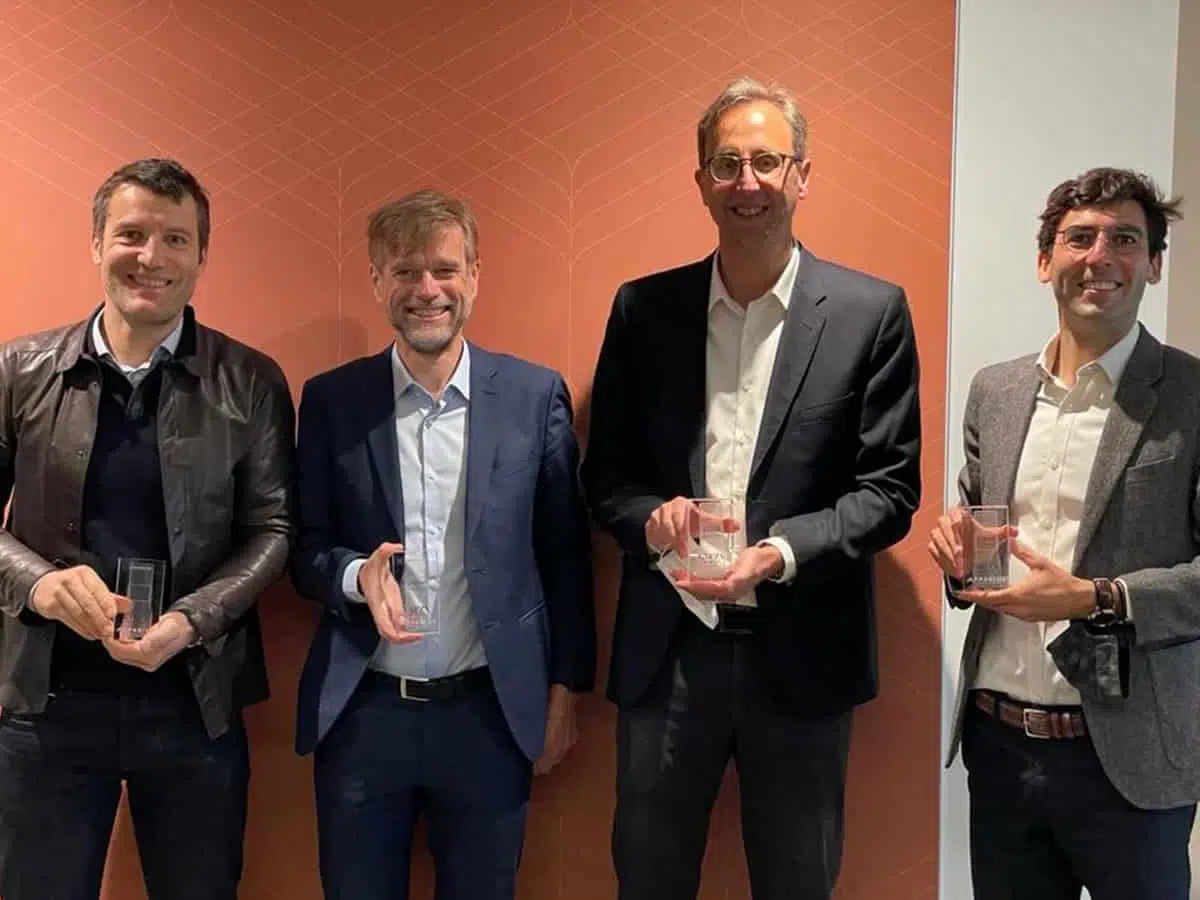 From left to right: Frédéric Bossan and Peter Høghøj from Xenocs, Jean-Luc CYROT and Raphael Horreard from Capza Growth Tech during closing of the investment agreement.
Owned and led by its founders Peter Høghøj and Frédéric Bossan, Xenocs is recognized as the most expert and innovative player in SAXS. Its products are considered having the highest level of performance, which gives the company a strong competitive advantage in terms of brand recognition and a sustainable base of customers, thus ensuring recurring revenues.
With CAPZA's support, Xenocs' ambition is:
to accelerate its commercial development;
to create new data processing and analysis software products to enlarge market accessibility;
and to enrich its current offer by potentially acquiring companies with adjacent and complementary technologies.
"We are delighted to support Xenocs in this new phase of its development alongside its founders to build a worldwide leader in nanoscale material characterization. Led by a competent and highly involved international management team, the Group shows great potential thanks to its strategic and technological position in SAXS market" – Jean-Luc Cyrot, Partner, CAPZA Growth Tech
"The entry of CAPZA Growth Tech in our capital is a steppingstone for the implementation of our ambitious growth strategy. Our goal is to position  Xenocs as the leading supplier of the SAXS market" – Frédéric Bossan, Managing Director of Xenocs
"We are very much looking forward to working with the CAPZA Growth Tech team as we continue our journey. Their expertise and support will be crucial  regarding the development of Xenocs, on both the organic and external growth sides." – Peter Høghøj, CEO of Xenocs
CAPZA enters the capital of the Group as a minority shareholder, while Xenocs' founders will maintain a majority share.
This will be a new transaction of CAPZA Growth Tech5 which is currently under fundraising.
Press contacts
Kristell Le Nadan – Citigate Dewe Rogerson
[email protected]
Tel: +33 (0)1 53 32 84 71 / +33 (0)6 98 49 22 27
Léa Schultz – Citigate Dewe Rogerson
[email protected]
Tel: +33 (0)7 57 52 06 05
About CAPZA Growth Tech
CAPZA Growth Tech is dedicated to high-growth profitable companies in the tech sector whose business model is focused on value creation. It relies on an experienced investment team, with complementary backgrounds in the tech sector (consulting, entrepreneurship, investment, management …) able to provide strategic and operational support to structure a profitable and sustainable growth.
About CAPZA
Created in 2004, CAPZA1 is an established European private investment platform focused on small and mid-cap companies. The company is majority owned by its teams and supported by the AXA Group.
With €5.2bn of assets2, CAPZA places its experience and passion for developing businesses at the service of investors in Europe and worldwide with its platform of 6 complementary areas of expertise: Flex Equity, Private Debt, Transition3, Artemid4, Growth Tech and Mid-Cap Expansion.
CAPZA offers financing solutions to small and mid-cap companies at every stage of their development. Its unique platform allows CAPZA to support companies over the long term by providing them with custom made financing solutions (majority equity, minority equity, subordinated debt, senior debt, etc.). CAPZA is a generalist but has built up strong expertise in supporting companies in the health, technology and services sectors.
CAPZA Group has more than 80 employees based in Paris, Munich, Madrid and Milan.
More information: https://capza.co  Twitter: @capza_co
1 CAPZA (formerly Capzanine) is the commercial name of Atalante SAS, portfolio management company approved on 11/29/2014 by the « Autorité des Marchés Financiers » under GP-04000065.
2 including assets managed by a third party and advised by Artemid SAS. Based on valuations as of 31/12/20 and also including funds raised until March 2021.
3 The funds of the CAPZA Transition range are managed by the asset management company CAPZA, and advised by CAPZA Transition SAS which has financial investment advisor status (CIF in France), is registered under the Orias under the number 18001601 since the 23/03/2018.
4 The funds of the Artemid range are managed by both by a third party and by the asset management company CAPZA and advised by Artemid SAS, which is a subsidiary of CAPZA and Amiral Gestion and has financial investment advisor status (CIF in France). Artemid SAS is registered by the Orias under the number 14003497 since the 05/28/2014.
5 Via Warehousing