Nano-inXider
SAXS made easy
The Nano-inXider is a comprehensive solution for the characterization of nanomaterials.
Benefiting from the unique technologies developed in the Xeuss 2.0, the Nano-inXider features unparalleled performance and ease of use in a compact package for simple integration into any lab environment.
Whether you work in consumer care, drug discovery, petrochemicals, renewable energy, electronics or composite materials, the Nano-inXider will help you determine the size, distribution, shape, surface-to volume ratio of nanostructures, as well as get information on the crystalline phase of materials.
The Nano-inXider also integrates a comprehensive and easy to use software suite for data acquisition, processing and analysis.
It can be in your lab !
Video: Nano-inXider SAXS/WAXS equipment
Video: launch of the Nano-inXider, Xenocs new SAXS/WAXS system, at the 23rd Congress & General Assembly of the International Union of Crystallography. Montréal, Canada.
Ease of use
Great care has been taken in the ergonomics of the Nano-inXider.
The Nano-inXider features a large sample environment for easy sample access and manipulation. All sample holders are equipped with a common quick connect interface for easy changes in sample environment without the need of any realignment.
The powerful system control software enables, within just a few clicks, the automatic alignment of the system and automatic change in system settings, so you can be sure that the system is always optimized to your experimental requirements.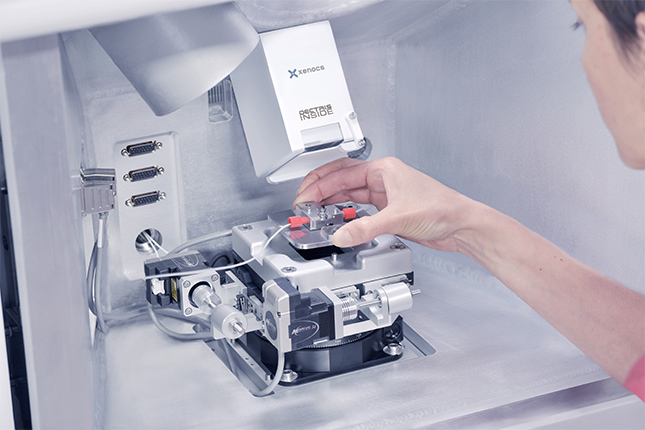 High performance
The Nano-inXider takes full benefit from:
Xenocs unique Clean Beam Technology, for unmatched measurement performance.

Video: Xenocs Clean Beam Technology

An all in vacuum architecture.
A deep integration of the latest generation hybrid pixel detectors from Dectris.
Compact design
As commonly seen in many other analytical tools on the market, like electron microscopes, the Nano-inXider features a vertical architecture.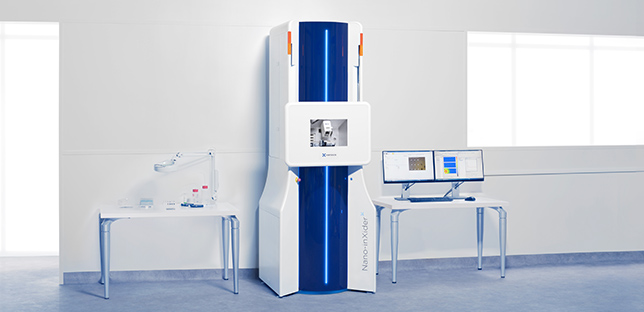 With this vertical architecture and complete integration of all facilities within the equipment body, the Nano-inXider features the smallest footprint on the market - less than 1 m²!
Optimized for your application
The Nano-inXider comes with a large range of multiple sample holders for solid, powder, liquids, gels.Measurements under variable conditions such as tensile, temperature, humidity, and shears are also possible. The Nano-inXider can also be equipped with an automatic liquid sample changer for the measurement of a large range of samples.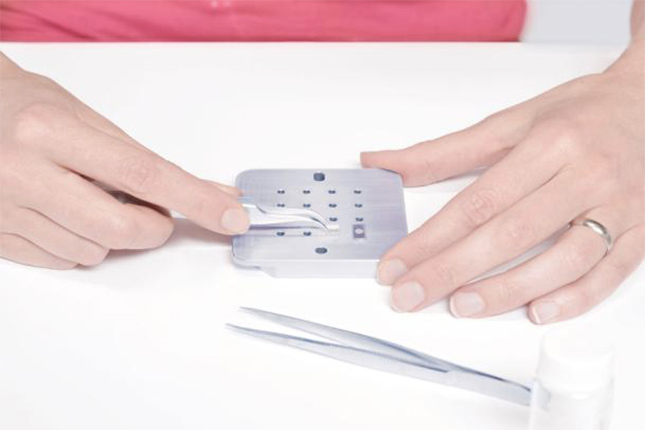 Comprehensive and easy to use software suite
The unique performance of the Nano-inXider is enhanced by a comprehensive and easy to use software suite for data acquisition, processing and analysis.
Video: Nano-inXider software suite
The data acquisition software enables, within just a few clicks, the control of all acquisition parameters, and monitoring of multiple sample measurements for maximum throughput.
The data processing and analysis software enables easy data treatment, including access to primary structure parameters.
With its smart interface, the Nano-inXider data processing software allows easy transfer of data to the most advanced software packages for data analysis such as ATSAS and SASfit.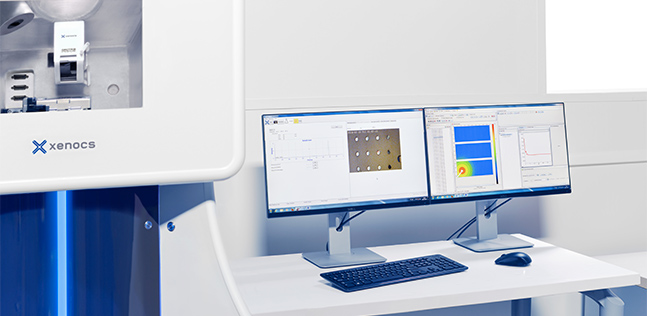 Brochure
With its compact design, unique performance and comprehensive sample environments, the Nano-inXider is the best solution for nanomaterial characterization on the market today.
X-ray beam delivery system
| | |
| --- | --- |
| Source | Microfocus sealed tube - Cu 30W/30 µm |
| Optic | Single Reflection multilayer optic with 2D collimation |
| Collimation | Scatterless collimation with automatic change of settings |
Sample stage
| | |
| --- | --- |
| X-Z stage | Motorized X-Z stage for remote multiple sample analysis and sample mapping |
| Phi stage | In plane sample rotation for azimutal averaging of scattered signal |
| GISAXS stage | Module to be mounted on X-Z stage with Omega (incidence angle tilting) |
Sample holder
Sample holder base
Pre-aligned sample base plug-in for fast change of sample holder
Liquid sample
Multicapillary holder (6 slots)
Capillary flow cell
Low noise flow cell
Solid sample
Multiple sample holder (16 slots) for powder, paste and solid samples
Sample holder for large objects
Thin film
Thin film transmission sample holder
GISAXS sample holder for large samples
Temperature units
Linkam HFSX350 temperature stage for transmission and GISAXS
Temperature range: -196 to +350 °C
Tensile units
Linkam TST350 tensile stage with temperature control
Tensile force range 0.01 N to 20 N or 0.1 to 200 N
Robot sampler for liquid loading
Unit for automatic injection of multiple samples for remote solution scattering measurements
Detectors
| | |
| --- | --- |
| SAXS | Dectris Pilatus3 hybrid pixel detectors |
| WAXS | Dectris Pilatus3 hybrid pixel detectors allowing simultaneous and continuous SAXS and WAXS measurement up to 2θ 60° |
Resolution and Q range
| | Minimum q value (nm-1) | Maximum q value (nm-1) | Minimum d value | Maximum d value |
| --- | --- | --- | --- | --- |
| With Cu K-α | 0.029 | 41.30 | 0.15 | 216.66 |
Software
System control and data acquisition with graphical user interface
Data processing and analysis software
Facilities
Power consumption
< 3000 W
Total footprint
87 cm x 93 cm (width x length) and 240 cm height
All facilities are housed inside the enclosure
Weight
520 kg
The right solution for your application. The Nano-inXider brings new characterization capabilities to the lab, opening new perspectives in many research fields.

Willing to make measurements and tests related to your application? Do not hesitate to contact us!
Brochure